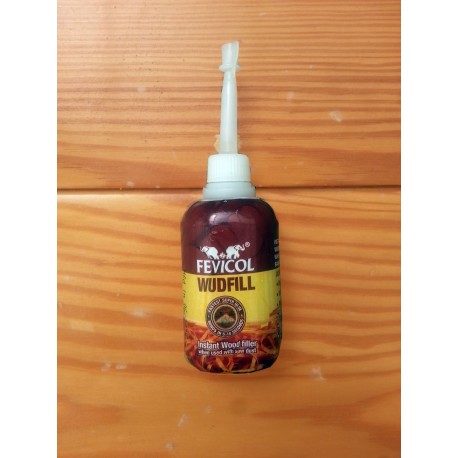  
Applications
To fill gouges, dents, holes and cracks in wood.
As a quick fix for general purpose wood working.
To Bond Plastic, Rubber, Leather, Metal, Flex, Ceramic.

Usage
Put the desired quantity of saw dust in the dent of the wood and then drop Fevicol Woodfill sufficient to wet the saw dust.
Wait for 5-10 seconds.
Can be sanded immediately.
Stains and polish can be applied once the surface become cool and well finished.
Benefits
Increased productivity due to fast setting
Excellent bonding
100% colourless - ideal for transparent finishes
Enhanced finish compared to White Carpenter's Glue
Easy to apply
Properties
Appearance : Clear Colourless Liquid
Chemical Composition : Cyanoacrylate based
No customer reviews for the moment.
Customers who bought this product also bought:
8 other products in the same category: