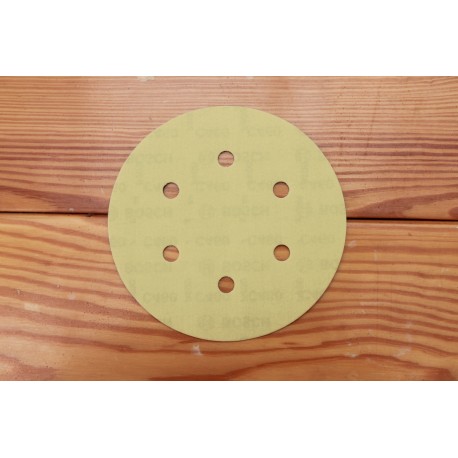  
Starcke 6" Velcro Sanding discs are coated with high quality abrasive grits to give scratch free sanding on wood and wood finishes. The sanding discs are long lasting and work with all 6 hole 6" random orbital sanders.
Features
Open coated, Aloxite abrasive - Ideal for sanding wood.
Contains premium aluminium oxide which guarantees high removal rate & long life.
Holes for dust collection allow for dust free sanding, due to which the abrasive surface does not get loaded by dust and grit.
Abrasion marks are not visible due to orbital motion of sanding.
Velcro /Hook&Loop Backing makes it easy to mount and unmount.
High quality velcro ensures long usability of the disc.
Applications
Sanding wood
Sanding wood sealers
Sanding wood fillers
Sanding wood finish top coats such as epoxy, malamine, NC, polyester and polyurethane(PU)
General sanding applications
DIY and professional projects
Grits Available
40, 60, 80, 100, 120, 150, 180, 220, 320, 400, 600, 800, 1000, 1200, 1500, 2000, 3000
Usage
These orbital sanding discs are ideal for sanding raw wood, sealers and finishes. Unlike traditionally used angle grinders that leave burn marks and gouges, orbital sanders do not leave any sanding marks, giving a superb finish. 
For sanding of raw wood grits 60, 80, 120 are ideal. 180 grit can also be used in cases where a top coat will be applied directly without any sealing.
In cases where the pores of the wood need to be opened, grits 40, 60 and 80 can be used. In such cases wood stains are readily absorbed into the wood, giving an intense colour.
Staining done after sanding with 180 grit discs give a more subdued tone.
Sealers can be sanded using grits 180, 220, 320.
Finishes can be sanded using grits 320, 400, 600, 800 and 2000. Ideal for finishing casting epoxy, PU, Polyester, melamine etc.
No customer reviews for the moment.
Customers who bought this product also bought:
16 other products in the same category: