More info
Berger iPaint Do It Yourself Wall Stencil Kits are self contained kits that can be used to create patterns on walls without any prior experience and by following simple instructions that are contained in the kit. The kits contain paint, application tools, reusable plastic stencils and an instruction manual that guides you to create magic on your walls. Go ahead, decorate !
Features
The kits contains adequate tools required to paint the walls: 2" Foam Roller, Painting Tray, 200 ml Silk Glamor Paint, Stencil Set, Masking Tape, Leveler Scale, Directions of use booklet.
Very Handy Tools.
High quality, smooth finish paint provided.
Elaborated instructions are mentioned in the Direction of Use Booklet provided in the kit
Instructions for use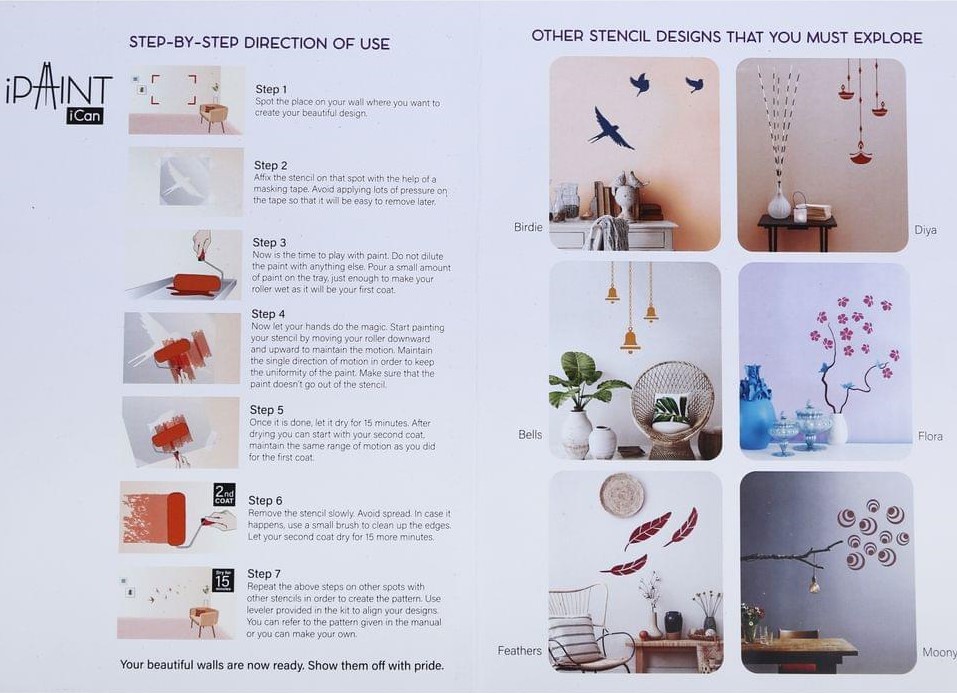 Frequently Asked Questions
Q: Which all surfaces can be painted by using this kit?
A: The kit is ideal to paint interior or exterior walls with water based interior emulsion paints. The Brush provided in the kit can be used to paint wooden and metal surfaces with enamel/oil paints.
Q: Do I have to do any surface preparation before painting the wall?
A: Yes, before painting the surface please make sure that there is no crack or dampness in the wall. Putty and primer need to be applied before painting the walls.
Q: How to use this kit?
A: A direction of use booklet is provided inside the kit with step wise instructions. For illustrative application videos, please visit www.bergerpaints.com/do-it-yourself.
Q: What is the use of sponge block?
A: Sponge block is used to clean the surface (use cleaning agent, if required) before paint application.t
Q: How much quantity of paint will tray hold?
A: It is recommended to pour 300ml paint at a time. Do not pour more than 1 litre paint in the tray.
Q: Do I need anything else apart from this kit to paint the walls?
A: This kit has adequate tools which are required to paint the walls. You just need to buy paint of your choice from outside.