More info
Berger iPaint Glow in the Dark Kit comes in different stencil design themes that can be applied on the ceiling and walls of your home to create a glow in the dark effect.
The kit contains all the tools and materials required to create a glow in the dark theme. One can simply place the self adhesive stencil on the wall and use the roller provided with the kit to apply the glow in the dark paint (also provided in the kit)... and voila you have created your own glow in the dark theme. Fall asleep gazing at a Galaxy or different creatures of the Ocean or simply let your imagination run wild with the various Switch Board Highlighters.
Features
Kit contains adequate tools required to Paint the walls: 2" Foam Roller, Painting Tray, 100 ml Glow in the Dark Paint, Stencil Set, Direction of Use Booklet.
High Quality Glow paint.
The stencils are self-adhesive. They can be stuck on the wall after peeling off the backing paper.
Easy to use. Highly durable finish.
Easy way to decorate the walls and ceiling with beautiful themes to make them glow at night
Information
Paint will look transparent during the day and will give a radium glow at night.
Safety Precaution: Properly wash the tray and roller with water immediately after use. Do not dilute the paint.
How to Use: Affix the stencil on the chosen spot and use the paint and roller to make beautiful designs. Elaborated instructions are mentioned in the Direction of Use Booklet provided in the kit.
Disclaimer: You may see some brown patches on stencil sheet due to high intensity of heat used during laser cutting.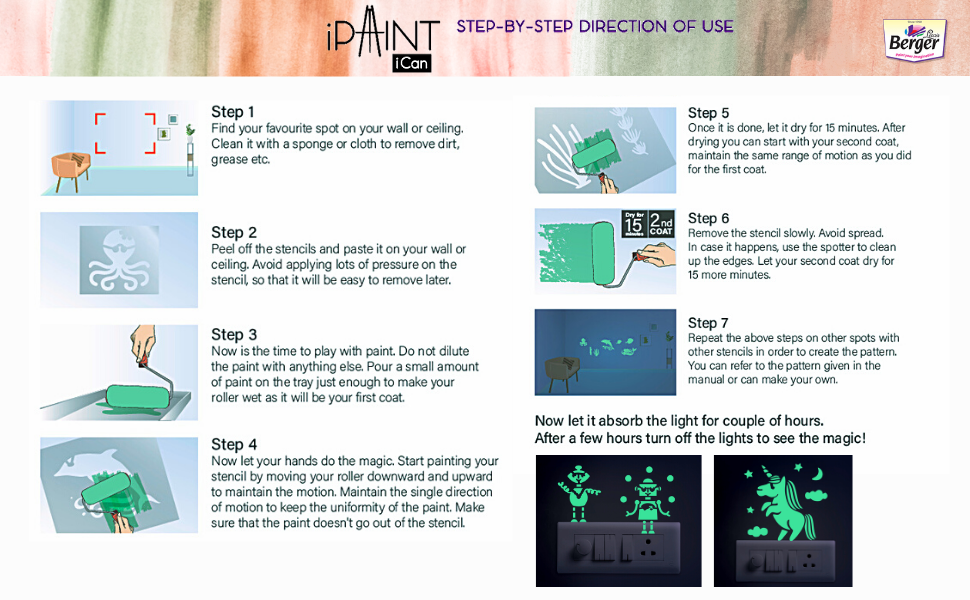 Frequently Asked Questions
Q: How should I use this kit?
A: A direction of use booklet is provided inside the kit with step wise instructions. For illustrative application videos, please visit www.bergerpaints.com/do-it-yourself
Q: Do I have to dilute the paint with anything else?
A: No, paint should be used undiluted.
Q: How many coats are required to make the design?
A: Since the paint is undiluted. So, ideally one coat is enough.
Q: On what all surfaces can I use the kit?
A: Glow in the Dark Kit is recommended to be used on interior painted walls and ceilings with smooth finish. This product is not recommended on lime wash
Q: Can it be applied on unpainted walls?
A: It is recommended to complete the normal painting before application of Glow in the Dark paint.
Q: After how much time will the paint start glowing?
A: After application, it takes 1-2 hours to absorb light and glow in the dark. Let it come in direct contact of light for some time and then turn off the lights to see the magic!
Useful Videos